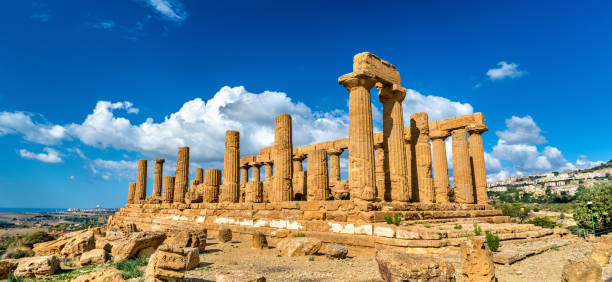 Palermo, Erice, Segesta, Agrigento and Taormina
9 night/10 days
Starting from 4.300€ per person
(minimum 4 pax, based on a double occupancy)
TOUR GOALS
Palermo, Erice, Segesta, Agrigento and Taormina
ACCOMODATIONS
2 nights lodging in Palermo, 2 nights lodging in Erice, 2 nights lodging in Agrigento, 3 nights lodging in Taormina.
Tour description
Featuring the very best of Sicily, this itinerary sweeps you off to Palermo, Erice, Segesta, Agrigento and Taormina.
You'll move from the North to East, South and West.
Along the way, you'll visit the picturesque city of Monreale, home to a spectacular Byzantine cathedral.
Explore the ancient Greek settlement of Segesta and tour its theatre. Learn about medieval Sicily at the scenic town of Erice.
Discover the Valley of Temples (one of the world's most valuable archaeological sites) and the well-known Selinunte for phenomenal photos.
Learn all about the fascinating Greek heritage of the island as you view millenium-old artifacts. You will also appreciate the natural beauty of the island as you take a cable car up Mount Etna.
Private full day private Mount Etna Tour. The highest volcano (approx. 3.326 mt) in Europe and one of the most active of the world. You will have the chance to explore the Silvestri craters.
Let's discover the flavors of Taormina and enjoy a relaxing private boat tour to visit the bays of Taormina and the coast of the pearl of the Ionian from the most privileged point of view of the sea.
What's included
9 nights accommodations (4****) with daily breakfast:

nr.2, Palermo; nr. 2, Erice; nr. 2, Agrigento; nr. 3, Taormina

8 lunches in local restaurants along the journey.
Private transfer transportations (where applicable) by Mercedes E/V Class or by minivan.
Private Boat experiences (where applicable).
Private guided Tours (Palermo, Erice, Segesta, Agrigento and Taormina) Languages: English, French, Spanish, Portoguese, etc..
Full day experience to Mount Etna.
Full day experience – Private Boat Taormina Tour.
What's not included
Air flights, travel insurance, tips, and anything not specifically mentioned in "What's Included".
Receive your full itinerary